Vámonos with stories in English and Spanish
told by Lilli
music by Ann Lehmann To buy this CD from me using paypal click the button below. To buy the CD from CDBaby as a hard copy or download click the CDBaby graphic below.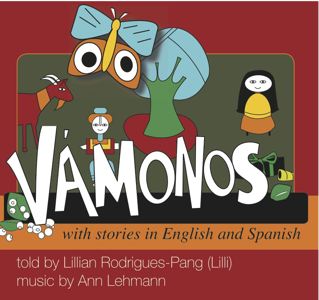 This is a CD of English and Spanish stories. The suggested age range is 4 years to 11 years old although I have had two year olds totally transfixed and adults stop me and tell me how much they love it.
The CD contains 5 stories and 1 song and is 60 minutes long. I hope you enjoy it.
The stories;
Raton Familia
This is a traditional tale from Cuba. I have heard many versions of it. Over the years I have developed this version for telling. It is my favourite all ages story of the past five years.
The perfect present.
I have heard so many different versions of this story in Spanish and English. In my version my two oldest children Miguel (who only speaks English) and Nicola (who only speaks Spanish) go on an adventure near our house to discover the perfect present for their father.
Senior Billy Goat
I originally read (not heard) this version in a literacy book. It contains a strong positive theme, that little people can do big things. A favourite of grade 4 to 6.
Sal De Alli
This story was developed from a song that my cousins taught me. It is a popular speed game in El Salvador - it is meant to increase in speed to the point that you can hardly breath or speak when you sing it at the end. It is so much fun - I had to add it.
La Mariposa
Many years ago I heard this story by Carrie Sue Avyar - who had heard it from Joe Hayes - who had heard it from ... well thats just the way oral stories are passed :-) Now I tell you an Aussie/Latino version based on the Ulysse butterfly.
Alas de Azul is a song that I created that overviews the story above 'La Mariposa" and is sung by 10 year old Trea Randall
Listener challenge
Now let me be straight with you. I am not a fluent Spanish speaker. I am a learner of Spanish and I think I will be learning for the rest of my life. My mother is from El Salvador (Nawat and Spanish) but I was born and raised in Australia with an English only speaking father. One of the things I have enjoyed the most about finding and performing these stories is that they help me feel connected to that part of me that is Spanish decent. In this CD I have tried to incorporate the fun and joy of a second language.
Your challenge - most stories have either an English or a Spanish piece of slang in them - can you find all of the ones in the list below?
chuta - meaning 'poor thing' used in (or by) Chile(eans)
wicked - meaning 'very cool' used predominantly in New Zealand.
que ondas? - meaning 'how are you?' used in Central America.
coolup seeds - The coolup is a shaker, a traditional percussion instrument, from the very north part of Queensland, Cape York and the Torres Strait Islands. They are made from burnie beans, the seeds from the matchbox vine, and the handle is plaited by hand from palm vine.
bakán - means 'very cool' in Chile (el acento es muy importante!)
mumacita - slang word for a good looking girl - if it is a good looking male then you say - pápasote. This is very common in El Salvador and used throughout Central America
cuero - means leather but is used as a slang compliment by men to women
colorin colorado este cuento se cavado - traditional finish for each story told.