Fairfield Families Week Event 17 May, 2017 Sharing percussion and at Fairfield Neeta City - upstairs. There will be info stalls, craft activities, school storytellers performing in multiple languages, books, Kalvin Kookaburra and storytelling sessions by me - so come along, say hello spend some time and play.

KidsFest Finale 20 May, 2017 KidsFest is a week of celebration, free interactive activities throughout the Shellharbour region. It is community driven, accessible and celebrating 10 wonderful years in 2017. I will be a part of the signature event - Dusk Magic at Killelea State Park involving the Welcome to Country and Smoking Ceremony by Uncle Gerald Richard Campbell, Little Ngargens Aboriginal Dancers, stories round the campfire, damper cooking with Fred's Bush Tucker, and star gazing with Wollongong Amateur Astronomy Club. http://kidsfestshellharbour.com.au.

Performing as a member of Wollongong Playback Theatre Co.


Palliative Care Week Performance 26 May, 2017 6-8pm MAIN AUDITORIUM, LEVEL 8 THE WOLLONGONG HOSPITAL, WOLLONGONG This evening is an opportunity to share true stories of end of life and grief and loss. It's a community event where we acknowledge death as a part of life. Wollongong Playback Theatre uses simple yet potent forms of expression to honour and reflect on the stories shared by the audience - the results might be profoundly moving or full of light and laughter - it all depends on the stories told! Not everyone has to tell a story, but every story is welcome on the Playback stage. Supper will be provided. FOR MORE INFORMATION CONTACT: TRACEY JORDAN PH: 42238380

Events I Produce on behalf of Merrigong Theatre Company


Sharing Stories - A Reconciliation Week Event An intergenerational knowledge sharing program that culminates in a public performance day on June 2 at Wollongong Town Hall. Local Aboriginal children and youth come together from a Kindergarten, primary school, high school and dance troupes to perform stories gathered from local elders. This is a wonderful, joyous celebration of cultural identity and sharing and something for all to enjoy, you can come along as a group during the day or to the 'Pay As You Feel' event at 6pm. Further information and bookings available with this link; www.merrigong.com.au/shows/sharing-stories.html.

Refugee Week - Our Community June 21 at Wollongong Town Hall. A day of events involving the local refugee community, story and rhyme time in multiple language, storytelling performances and a live sharing of stories from the recent exhibition "A Mile In My Shoes" Further information and bookings will be available soon.

Ongoing Storytelling Workshops


Mental Health Recovery Ctr, wollongong Every Monday, 2017 Once a week we share stories for an hour, including creating our own and we follow it all with percussion for 30 minutes. Contact me if you would like more information.

Our Stories - recently arrived refugees Once a week we share stories for all ages, this is a families story and skill sharing session. Contact SCARF or me if you would like more information.

A Select Listing of Recent gigs


Tribal Canoe Journeys - Nisqally, USA

Healing Story Alliance concert, NSN storytelling Conference, Story Slam, Kansas, USA

Iran 17th International Storytelling Festival, Iran

Señor Rabbit and Curious Jac in the Spot On Festival, Riverside Theatre, Parramatta

Munt de Mots, IV Festival del Narracio Oral de Barcelona

Todas Las Palabras. Todas, Peru

Abrapalabra, Bucaramanga, Colombia

Sydney International Storytelling Conference - The Power of Stories

Sydney Opera House

Connections. Digital stories of migration and relocation. Illawarra

Malaysia, Dignity for Children Foundation and Early Childhood Education Conference,

SINGAPORE International Storytelling Festival,

Peter and the Wolf
Live performance with WIN Wollongong Symphony Orchestra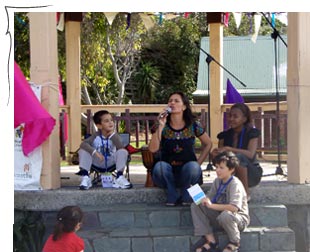 Story being told in the languages of the community -
English, Spanish, Turkish and Swahili.