LeapYear into Fab Fest - Bushfire recovery benefit 29 February, 2020 2.30pm-11.30pm at SWA hall Stanwell Park I am one of over 50 artists who will there. Ill be storytelling in the daytime and then dancing and sharing with all you wonderfolk raising money for those affeected by recent bushfires.


A Sunny Afternoon 1 March, 2020 McCabe Park, Wollongong 2pm Illawarra Nature Stories and Songs Musician Ann Lehamnn-Kuit and I join force to bring original and catchy stories and songs about our local region. Come along and learn about local bees, crayfish, bandicoot and many more animals and trees through highly engaging and interactive stories and songs. 4pm StoryBeats Matty Bongo and Lilli Story join together to enterain with the highly percussive, always fun, exuberant StoryBeats. Clap, stomp, drum and share in a rhythmic adventure. Presented by Yours and Owls. Tickets available via Moshtix

Harmony Day Wollongong PS 2pm Friday 20 March, 2020 Wollongong I will assist in an Arabic storytelling performance to kick off the wonderful Harmony Day celebrations that Wollongong PS host every year.

National Folk Festival Thursday the 9th of April to Monday the 13th of April 2020 Canberra
Story Beats (Matt Bourne and I) will be performing daily. We look forward to playing and creating with all of those that come and experience this piece of magic that is a festival. Further information /folkfestival.org.au/

Under Southern Skies Storytelling Festival 22nd May to the 29th May 2020 I have finally committed to presenting a multilingual storytelling festival
With much joy I present the following events;
May 22 Phoenix Theatre
Coniston
4pm - families showcase and 7pm Adult adventures
Ticket information and pricing available on the website soon to come
May 29 Riverside Theatre
7pm - Storytellers Showcase
May 30 Riverside Theatre
3-4.30pm Indian Storytellers Showcase
Including Jeeva Raghunath, Kiran Shah and Spellbound Storytellers
7pm Storytellers Showcase


Ongoing Storytelling Workshops/Performances


Word Feast Every second Month, 2020+ A secret venue, a ticket purchases, an email the night before and then Story Time. Come along share a picnic blanket or a chair and a small wonderous storytelling performance and community. Contact me if you would like more information.

Story Night at Lost in Books Fairfield - pm Every other month we take over the books shop. We start by sharing stories for all ages, all langauge abilities, all cultures. After a break we transition into story performances for those who are ready. This is true community sharing and connecting. Listen, laugh, connect. Contact Lost in Books or me if you would like more information.

A Select Listing of Recent gigs


Re-Imagined festival in Nairobi, Kenya. December 2019

Tribal Canoe Journeys - Nisqally, USA

Healing Story Alliance concert, NSN storytelling Conference, Story Slam, Kansas, USA

Iran 17th International Storytelling Festival, Iran

Señor Rabbit and Curious Jac in the Spot On Festival, Riverside Theatre, Parramatta

Munt de Mots, IV Festival del Narracio Oral de Barcelona

Todas Las Palabras. Todas, Peru

Abrapalabra, Bucaramanga, Colombia

Sydney International Storytelling Conference - The Power of Stories

Sydney Opera House

Connections. Digital stories of migration and relocation. Illawarra

Malaysia, Dignity for Children Foundation and Early Childhood Education Conference,

SINGAPORE International Storytelling Festival,

Peter and the Wolf
Live performance with WIN Wollongong Symphony Orchestra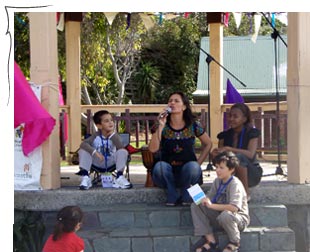 Story being told in the languages of the community -
English, Spanish, Turkish and Swahili.