Spanish School Story Performance 9 December, 2017 Performing with Ann Lehmann-Kuit in Spanish for young dedicated young Spanish students.

Woodford Folk Festival 27 December 2017 - 1 December 2018. Woodford Queensland
Over 6 days more than 2000 performers and 438 events to entertain, educate, create conversation, learn, dance and enjoy. There is a dedicated childrens festival with 6 venues. I will be there performing Story Beats along with Matt Bourne. Further information /woodfordfolkfestival.com

Kids Day Out 2018 Thursday 18 January 2018. Dapto Ribbonwood Ctr, Dapto
A free event hosted by The Childrens Book Council Illawara Branch. Authors, illustrators, workshops and storytelling.Come along and enjoy between 10am and 2pm. Further information /nsw.cbca.org.au

HONK Festival 11 - 13 January 2018. Wollongong CBD NSW
I will be there dancing and HONKing for all Im worth as a member of Le Femme Fatales and as a member of the joyous audience. Its free, its fun, its highly recommended. Further information /honkfest.org.au

Illawarra Folk Festival 18 - 21 January 2018. Bulli NSW
144 acts from all over Australian over 12 venues set up in the Bulli Showgrounds. There is a dedicated childrens venue and programming, a youth program and workshops and folk school you can attend. Come and enjoy. It is worth every minute. Further information /illawarrafolkfestival.com

City of Sydney Libraries Rhyme Time Sessions February and March, 2018 Newtown Library and Surry Hills libraries at 10am


I will be there in support of Wafaa and Bumeh - members of FIREFLIES.


Wafaa will be presenting Rhymetime in Arabic and English at Newtown library. Bumeh will be presenting Ryhmetime in Karenni and English at Surry Hills library Please contact me if you would like further information

Ongoing Storytelling Workshops


Mental Health Recovery Ctr, wollongong Every Monday, 2017 Once a week we share stories for an hour, including creating our own and we follow it all with percussion for 30 minutes. Contact me if you would like more information.

Our Stories - recently arrived refugees Once a week we share stories for all ages, this is a families story and skill sharing session. Contact SCARF or me if you would like more information.

A Select Listing of Recent gigs


Tribal Canoe Journeys - Nisqally, USA

Healing Story Alliance concert, NSN storytelling Conference, Story Slam, Kansas, USA

Iran 17th International Storytelling Festival, Iran

Señor Rabbit and Curious Jac in the Spot On Festival, Riverside Theatre, Parramatta

Munt de Mots, IV Festival del Narracio Oral de Barcelona

Todas Las Palabras. Todas, Peru

Abrapalabra, Bucaramanga, Colombia

Sydney International Storytelling Conference - The Power of Stories

Sydney Opera House

Connections. Digital stories of migration and relocation. Illawarra

Malaysia, Dignity for Children Foundation and Early Childhood Education Conference,

SINGAPORE International Storytelling Festival,

Peter and the Wolf
Live performance with WIN Wollongong Symphony Orchestra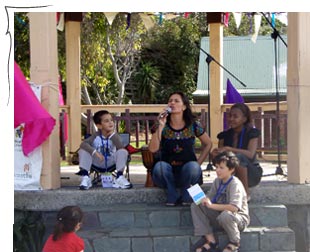 Story being told in the languages of the community -
English, Spanish, Turkish and Swahili.