MentalHealth Month Picnic in the Park 12 October, 2018 11am-2pm at McCabe Park, Wollongong I am there drumming with Flourish Wollongong and telling a story on stage at 11.50. Come at any time, talk to some of the wonderful folks in our community.


Story Fest '18 20 October, 2018 The Story Booth A two part gifting process. - Lilli and Honora (www.kindArtED.com.au) You will be led through imagination starters and story sparks for an hour of interactive and improvised story games, culminating in a finished short story committed to paper. The group then decides on how your stories will be gifted to others. Further information /www.wordtravels.info/story-fest-18-events/2018/10/20/the-story-booth

Assyrian and Chaldean Conference -My language is my future 10 November, 2018 Fairfield As a part of the Community Language School Program I will teach a program on using traditional multilingual stories to enhance and engage language learners. As a performer and language teacher (Spanish and English) I use traditional stories to frame my lesson planning and provide real world experiences of using the target language. Contact me if you would like further information

Bhu-Fest in India from the 6th to the 10th of December

Re-Imagined festival in Nairobi, Kenya from the 11th to the 16th of December

Woodford Folk Festival Thursday the 27th of December to the 1st of January 2019 Woodfordia,QLD
Story Beats (Matt Bourne and I) will be performing daily, either a full improvised set where we inspire and record stories in the tent told by all who attend or stage performances of stories from our CD. We look forward to this piece of magic that is a festival. Further information /woodfordfolkfestival.com/

Illawarra Folk Festival 17 January to the 20th January 2019 StoryBeats - Matt Bourne and I will be playing with drums, stories and you!
Further information illawarrafolkfestival.com.au/

Ongoing Storytelling Workshops


Mental Health Recovery Ctr, wollongong Every Monday, 2017 Once a week we share stories for an hour, including creating our own and we follow it all with percussion for 30 minutes. Contact me if you would like more information.

Our Stories - recently arrived refugees Once a week we share stories for all ages, this is a families story and skill sharing session. Contact SCARF or me if you would like more information.

A Select Listing of Recent gigs


Tribal Canoe Journeys - Nisqally, USA

Healing Story Alliance concert, NSN storytelling Conference, Story Slam, Kansas, USA

Iran 17th International Storytelling Festival, Iran

Señor Rabbit and Curious Jac in the Spot On Festival, Riverside Theatre, Parramatta

Munt de Mots, IV Festival del Narracio Oral de Barcelona

Todas Las Palabras. Todas, Peru

Abrapalabra, Bucaramanga, Colombia

Sydney International Storytelling Conference - The Power of Stories

Sydney Opera House

Connections. Digital stories of migration and relocation. Illawarra

Malaysia, Dignity for Children Foundation and Early Childhood Education Conference,

SINGAPORE International Storytelling Festival,

Peter and the Wolf
Live performance with WIN Wollongong Symphony Orchestra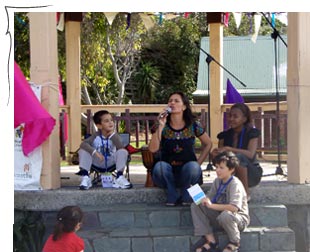 Story being told in the languages of the community -
English, Spanish, Turkish and Swahili.