List of workshops available and ofcourse what others have to say...
"I really enjoyed your session, it was one of the most developed & unique that I attended during SISF. I've definitely spent time reflecting on the concepts you shared, & how I can integrate them into my everyday work!"
Participant, Singapore International Storytelling Festival
" ... all praise for your skills and generosity. It was a great opportunity to learn and share with colleagues and early education trainees... you're good fun and good-funny!"
Participant, Dignity for Children, Malaysia
From my heart to your heart - we are all storytellers
Community
This workshop is for parents, grandparents, lovers of a great tale, writers, songwriters... well people :-) who want to develop or finetune their inherent storytelling skills.
Schools
Written and oral storytelling skills (including voice, stage presence, characterisation) are explored. What are the differences? Students develop a piece for presentation using song, music, props, and none of these extras!
The language of stories
Teachers and community workers.
This workshop overviews simple methods of sourcing stories, adding languages into those stories, participation hints and overviews the way children and adults learn about the world through story.
Schools
Explore our cultural heritage and diversity as a classroom/group. The great tales of Ireland, Wales, Norway, Argentina, Italy, Macedonia, Australia...often share similar tales, moral lessons. Together we explore what tales we have in common and make time to listen to each other.
Line-by-line stories - A truly communal creation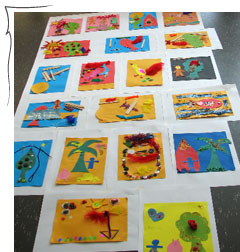 Weaving the magic of story – For younger participants;
Children create an art piece on an A4 sheet of paper, which are put together as a story quilt. Together we will weave a story (or 10) to include all contributions.
For older participants;
Children and/or adults are encouraged to offer the next line in a story. The stories will be guided to a 10 page maximum and all participants illustrate their contribution. The stories will be collated and bound as books for the centre/workplace/library to keep.
This workshop can be done in collaboration with a visual artist to create a beautiful and personal piece.
Life as story
Community workers
This workshop explores the ways in which we can listen, hear and elicit stories. We cover presentation of ourselves as a story, ways in which we offer alternate stories and the value of the witness.
Public
Our lives can be seen as a series of stories. Together we can develop past events/memories into good tales for the telling. We will create a supportive development and telling environment. We will explore appropriate metaphors and cultural tales to embed our story.
For more information, contact me